The Valley Aquatic Centre is now closed for the season. See you in May 2022!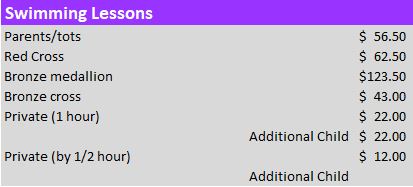 PRIVATE LESSONS
Please submit a request for Private Swimming Lessons and the Aquatics Supervisor or Head Lifeguard will contact you to confirm the time and dates of the private lessons.
Fill in a Private Lesson Request Here
Payment will be required prior to the start of the lesson to confirm your spot.
Phone the pool or follow us on the Rosthern Valley Aquatic Centre's Facebook Page
for hours of operation that week.
We accept cash, cheque, & debit at the VAC
Swimming Lesson Refunds
Lessons must be cancelled a minimum of 10 days prior to the start of the lesson to receive a full refund. A refund request within 10 days of the start date, or once the lessons has began but no more than 20% of the lesson complete, will receive a 50% refund. After 20% of the lesson, no refund shall be issued.
Please contact the VAC at 306-232-5044 or email vac@rosthern.com for any other inquiries.